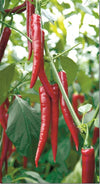 Fruits- VFR64 Pepper Hot 'Poseidon' (12 -16 Seeds)
Fruit Seeds by The Seeds Master
VFR64 Pepper Hot 'Poseidon' (12 -16 Seeds)


Productive and high-yielding variety with an extremely short vegetation period. This plant produces numerous, distinctly elongated fruit with shiny, dark red skin and relatively hot, juicy, great-tasting flesh. Goes very well in soups, stews, rice, and meat dishes. One plant bears 20-25 fruits. It takes around 80 days to full maturity. Seeds germinate in 14-22 days.
HOW TO GROW FRUIT SEEDS
Planting: Year-round in a tropical climate; In temperate climates - Early spring, starting the seeds indoors 6-8 weeks prior to the last frost date and transplanting outdoors after the danger of the last frost is gone.
Soil: Fertile, well-drained soil. Grows well in warm and hot climates.
Sowing Depth: ¼ inch (.6 cm) deep.
Spacing: Approximately 16 inches (40 cm) apart.
Light: Full sun.
Watering: Water frequently to keep the soil moist, but not soggy.
Fertilizing: Required for normal soils.